Solutions we offer are far more than a list of buzzwords. They are the systems that are relevant and needed from the company's point of view. They ensure that your employees work efficiently and purposefully, both internally with each other and externally with their customers. This applies to processes and systems as well as to communication and collaboration.
We have a clear focus on the digital transformation of sales (sales and service) and can offer you deep and broad expertise in this area.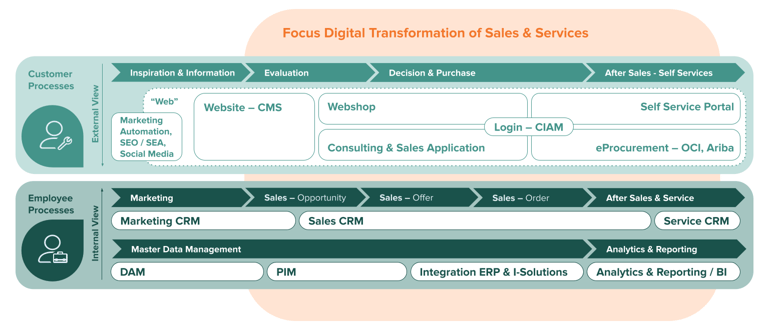 Solutions for the way of working and processes with your customers

Website - CMS

eCommerce - Webshop

Consulting & Sales applications

Customer portal

eProcurement, Ariba, OCI, Punchout

Login - CIAM

Marketing automation, SEO / SEA and Social Media
Solutions for the working methods and processes of internal employees

CRM - Marketing, Sales, Service

PIM - Product Information Management

DAM - Digital Assest Management

ERP Integration / Industry solutions

Analytics & Reporting / BI
Background to our solutions
A wide variety of technical solutions are used to support and implement the digital transformation in your company - both for the external processes towards the customer and internally for the processes of the employees.

When selecting the right systems, it is crucial to ensure that the departments responsible internally and those affected take a comprehensive and cross-departmental view. The organizational separation of system responsibility ("Marketing is responsible for the website and Sales for the CRM") is no longer appropriate and prevents you from implementing your goals in an efficient and results-oriented manner.

In order to make the customer journey a truly seamless experience, processes must be viewed and implemented in an end-to-end manner. The result is an interlocking and continuous process handling. For example, marketing lead, sales opportunity, offer and order are completely intertwined from both a process and a system perspective and deliver corresponding results.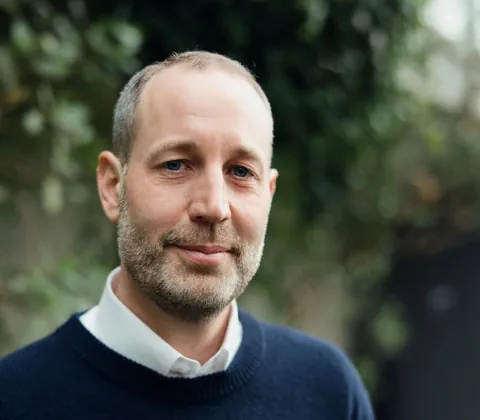 Are you providing your target audience with a unique buying experience across all system processes?
We would be happy to talk to you about your current challenges and what solutions we could use to meet them.
Michael Pertek, CEO & Partner
michael.pertek@diselva.com